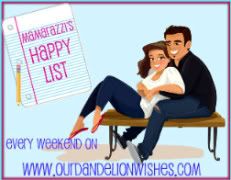 It's the weekend, so it's time to link up with
Mamarazzi
to tell the world what's making me happy this week.
I'm happy that the freaking garden is FINALLY planted! Between the heat, humidity, and heat index I didn't think I'd ever finish, but we got it all done on Friday. Now it's just a waiting game for things to grow.
I'm happy my summer intern is eager, helpful, and has a brain! She's making my workload easier and helping me get stuff done.
I'm happy the forecast for this week is for the 80s with some rain...my garden needs it!
I'm THRILLED that I got to have dinner with a few of my favorite ladies last night in NYC. Not only was the company fantastic, but the dinner was ah-mazing! For real! I had the most perfect rissotto with spinach and fava beans with a nice pinot grigio. I'm not Hanibal Lector, so no Chianti for me. :)