It's Saturday and a long weekend, so it's time to link up with
Mamarazzi
to tell the world what's making you happy this week!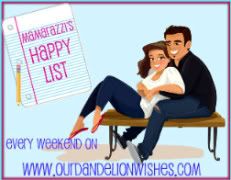 I'm happy that I got to see one of my besties, Ms. Cory, who was in from Austin for a few days. Yesterday we had an awesome lunch along the canal at
Lily's
...and I'm happy I was able to resist their ever so tempting dessert list! Then we hung out for a few hours and decided that she should celebrate the ability to have REAL pizza with a trip for tomato pies at
DeLorenzos
. Oh how their tomato pies with extra tomato make my happy happen!
I'm happy I survived my barium test - we got there early, started early, and therefore finished early. My doctor should already have the report as of end of day yesterday, so here's hoping we get some answers soon! I'm less than thrilled about the blood work I have to have done, since needles make me VERY unhappy, but I'm glad this will be all done this week.
I'm happy we bought mulch today, so I can mulch my flower beds and be done for summer playing around with that!
I'm extra happy it's a long weekend...and that thanks to Memorial Day I got an adorable dress at Ann Taylor on super sale!
I'm happy to be able to attend Miss Kelsey's 2nd birthday party tomorrow! I got her the cutest little preppy outfits, just like Aunt Becky would wear (hello adorable plaid shorts), plus a stinking cute little pink tutu skirt, which I LOVE!
So what's making YOU happy this week? Link up and let us know!